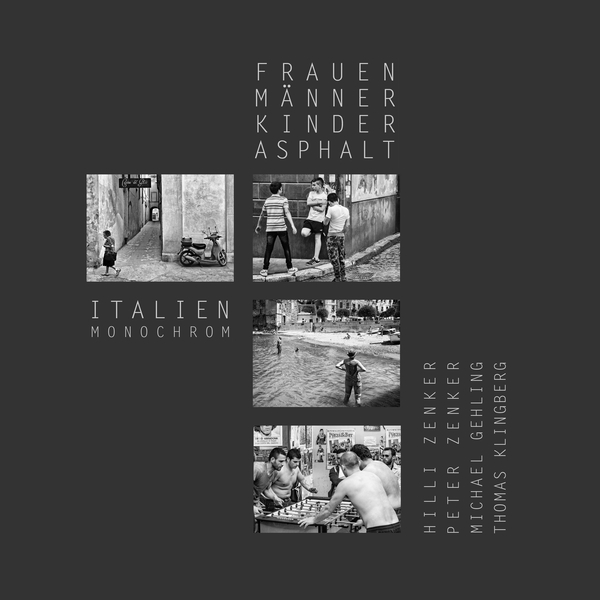 Photo book Italy monochrome
Under the motto 'Four photographic statements on the sights of everyday life', Hilli Zenker, Peter Zenker, Michael Gehling and Thomas Klingberg each present 20 works as an extract from their exhibition 'Women, Men, Children, Asphalt – Italy monochrome', which was on show in April 2014 in an empty shop belonging to the Buchholz community of heirs at Essener Straße 30 in Gelsenkirchen.
As the title suggests, the photo book is not a collection of classic travel photographs. Rather, the 80 photographic works show scenes and peripheral incidents from everyday life in different cities across the country in a very honest and unembellished monochrome documentary style. Whether it is the nun playing volleyball, four eager bare-chested men at the foosball table, the graceful woman strutting through a dark alley at night or the elderly lady under the hairdryer at the hairdresser.
The photo book, printed on high-quality 200g/sqm Fotobrilliant paper, is published in 21x21cm large format under ISBN 9783738647471 and costs EUR 9.90 in bookshops. The book is also available as an eBook in the usual online stores.
Paperback
96 pages, 80 black and white photographs
200g/qm matt photo brilliant paper
ISBN 978-3-7386-4747-1
Published October 2015
Available in bookshops or free of charge from -> thalia.de,  EUR 9,90
This article was posted on November 25, 2015
---
Recommended posts
---