WORK & VITA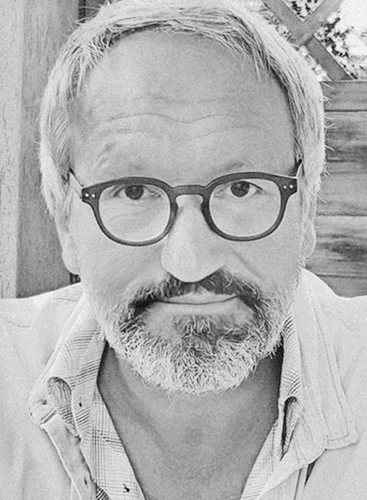 Born in 1971, freelance photographer and visual artist in Düsseldorf with a focus on social documentary photography and photographic documentation and reportage in difficult-to-access environments. On the artistic side, the focus of his work lies in the stylisation and poeticisation of seemingly banal everyday scenes with the aid of the medium of photography.
Registered in the artist directory
of the state capital Düsseldorf
Member of the German Media Association
Member of the Professional Association
of Artists (BBK Düsseldorf)
.
Exhibitions &
Projects (excerpt)
2024
»Das Wesentliche im Fokus«
Group exhibition with Oliver Christensen, Günter Claus, Hanne Horn, Thomas Klingberg, Renate Scherra
Black-White-Photography
11. 1. – 21.1.2024
BBK Kunstforum
»AUSSCHUSS«
Group exhibition with Hanne Horn,
Birgit Martin, Alexander von Goch
Film & Photography
17. 5. – 16.6.2024
Galerie Judith Dielämmer
Grevenbroich
2023
→ BEGEGNUNGEN
Group exhibition
Düsseldorf, ROSS 31
07. 10. – 14 10. 2023
Roßstrasse 31, Düsseldorf
→ Parallel
Group exhibition
Kunstverein Duisburg
6. 10. – 22. 10. 2023
Eröffnung: 6. 10. 2023 / 11:30 a.m.
Weidenweg 10, Duisburg
→ Gelsenkirchen abseits des Fußballs
Single exhibition; Book presentation and exhibition
Gelsenkirchen, City Library (Horst)
21.09. 2023 – 30. 11.2023
Opening: 21. 09. 2023 / 7:00 pm.
→ PLASTIC DREAMS
Group exhibition of BBK Düsseldorf
23.03.2023 – 02.04.2023
Düsseldorf, BBK Kunstforum
2022
→ Year-end exhibition of the BBK Düsseldorf
"Winterkunst"
01.12.2022 – 18.12.2022
Düsseldorf
→ NRW State Art Exhibition
Dortmunder U, Level 6
10.11.2022 – 08.01.2023
Dortmund
→ Violences
Group exhibition with Bettina Guckler,
Claudia Grunst, Daniel Breininger
Vernissage 29.10.2022
Gallery Smend
Cologne
2021
Breaks and new beginnings
Publication of the book
(ISBN: 9783754135365)
2020
→ Gelsenkirchen beyond football
Publication of the photo book
(ISBN 9783749465491)
2019
→ Breaks and new beginnings
Documentary exhibition in
Photos and texts
Düsseldorf
→ Everyone is a Photographer
Employees of a textile upcycling company describe their working world photographically in a photo workshop. Düsseldorf
2018
→ stadTraum
Joint exhibition with the artist
Jaqueline Lobodda. Photographs, collages,
Objects, texts. Gelsenkirchen
→ MOSCOW STUDY
Exhibition in the context of the
Photo Festivals DÜSSELDORF PHOTO
→ MOSCOW STUDY
Scholarship of the Mulimedia Art Museum
Moscow and the city of Düsseldorf
2017
→ Zwischen Gleisen
Poetry & everyday life on the "Red Island"
(a so called district in Berlin)
text & photography, Berlin Schöneberg
2016
→ Blick zurück nach vorn
Joint exhibition with the
Photographer Ulrike Fox,
Gelsenkirchen
→ FORST
Contemporary social documentary photography.
Exhibition of the photographic documentation in the
Framework of the Kunstpunkte Düsseldorf (solo exhibition)
→ Charity Ausstellung
for the Jasmin-Hilfe e.V.
in Düsseldorf (group exhibition)
2015
→ Worte/Bilder/Dialoge
Urban poetry of the everyday.
Fragmented exhibition in public space, Düsseldorf & Berlin
→ Sprachbilder / Bildsprachen
Berlin city views. Text trifft Fotografie, Berlin (joint exhibition). Poetic answers to social documentary photographs
2014
→ Sei wie du dich fühlst
An artistic counterposition to commercial school and kindergarten photography". (Artistic Director ) Collaboration with the photographer Ulrike Fox, the Gelsenkirchen City Library and the Grundschule am Schloss in Gelsenkirchen-Horst.
→ HAMASAT #7
Hamasat Photo Gallery, Qatif, Saudi Arabia (joint exhibition)
→ Frauen, Männer, Kinder, Asphalt
Photographic statements on the sight of everyday life, Gelsenkirchen, Participant & artistic director (joint exhibition)
2013
→ Wir in Gelsenkirchen
Social documentary photography. Exhibition of the documentation in Horst Castle, Gelsenkirchen (solo exhibition)
→ Starke Typen
Interdisciplinary art exhibition with the visually impaired artist Bärbel Frank, Hamburg, Dorsten
→ Gesichter der Demenz
Portraits of people suffering from dementia in cooperation with the Alzheimer Society Gelsenkirchen, Werner-Thiel-Halle & Nordsternturm, Gelsenkirchen (solo exhibition)
2012
HAMASAT #5 – Hamasat Photo Gallery, Qatif, Saudi Arabia (joint exhibition)
.
Publications
→ Brüche und Aufbrüche
Exhibition catalogue
(ISBN: 9783754135365)
→ Stadt. Alltag. Umwelt.
Photographic observations of everyday life.
(ISBN 9783750200647)
→ Gelsenkirchen abseits des Fußballs
Photo book "Gelsenkirchen beyond football"
(ISBN 9783749465491)
→ Poesie & Alltag
Publication to the eponymous
Art project in public space
(ISBN 9783738640090)
→ FORST
Social documentary photography:
Photographic documentation
social work, photo book on the exhibition
(ISBN 9783741294624)
→ Italien monochrom
Exhibition catalogue
(ISBN 9783738647471)
→ Danzig
A photographic walk
(ISBN 9783844279801)
→ Wir in Gelsenkirchen-Horst
Social documentary photography
Exhibition catalogue
(ISBN 9783844276046)
.
Testimonials
"You will leave this exhibit with a different consciousness than when you entered it." (Mayor Klaudia Zepuntke, Düsseldorf, about the exhibition → Brüche und Aufbrüche)
"In Thomas Klingberg's photographs, you can see in black and white what is hardly noticed in the grey tones of society." (Writer→ Frank Schablewski)
"I was very touched by the way Thomas dealt with the children in the hospice. He communicated with them without speaking their language. When you saw how much closeness the children allowed, you could have thought Thomas had been a part of the institution for a long time." (Dr. Natasha Grigorian, Dmitry Rogachev National Research Center in Moscow)
"Klingberg's photographs are carried by a deep humanism. A master of the iconography of everyday life." (Dr. Rainer Strzolka, literary scholar and photographer)
"He is not only a good photographer, he can also climb very fast over very high walls" (One of the protagonists of the photo series → "Illegale Sprayer")
" … seeks the edges of society, where life is direct and maskless, in the space where there are cracks, constraints, longings, and laughter of despair. He records this life with the camera, directly and honestly in intimacy. Life wins, the photograph becomes a secondary matter." (Barbara Oestersötebier)
"A rather wide photographic spectrum, where not everything pleases me. But the portraits are remarkable & extraordinary." (→ Angelika Richter, artist, architect)
"These photos would only touch me intensely if they were stapled to me." (Visitor of one of my exhibitions)
"The wonderful pictures, created under the guidance of Thomas Klingberg, touch, admonish and encourage. Are bizarre, even annoying and put a finger in the wounds of our city." (Britta Zweigner, managing director renatec GmbH about the publication → STADT. ALLTAG. UMWELT.)
It is interesting that such a positive, open and cheerful person takes such oppressive and depressive photos. He is a man of contrasts. (Anna Kruitikova, visitor of the exhibition "Moscow Study" in Moscow)
"He is a philanthropist. You see in his photos. You can feel it in personal contact" (artist → Jaqueline Lobodda)
"Through the choice of his unusual exhibition locations, he provides people with access to attractive photography who would otherwise hardly come into contact with it" (Reinhold Adam, former city councillor in the cultural committee of the city of Gelsenkirchen)
"I am impressed by his in-depth image and portfolio analysis. He has the eye, the ability and the desire to deal with foreign image content and to give valuable suggestions." (Photographer → Alexandre Sladkevich)
"I warmly recommend this book, its pictures and thoughts to you" (Helga Stulgies, Department of the Environment in Düsseldorf, from the preface to the publication → STADT. ALLTAG. UMWELT.)
Press
→ Presseartikel der Rheinischen Post zur Ausstellung "Begegnungen"
→ WAZ-Artikel: Ein ingeschönter Blick, der auch Narben der Stadt zeigt
→ kulturonline.tv – Vier Kunstschaffende zeigen Gewaltigkeiten
→ Presentation of the photo book Gelsenkirchen abseits des Fußballs on Gelsenkichen.de
→ Ausstellung "Zwischen Gleisen" macht den Kiez ein Stück zum Wohnzimmer
→ stadTraum – Jaqueline Lobodda und
Thomas Klingberg zeigen urbane Perspektiven
→ Leeres Ladenlokal wird zur Galerie (PDF)
→ Eine Ausstellung fernab der Selfie-Mentalität
→ Kunstprojekt wirft poetischen
Blick auf das Alltägliche
→ "Poesie und Alltag" wirft besonderen
Blick auf das Alltägliche
→ Lyrik trifft auf Berliner Stadtansichten
→ Moderne Märchen und Stadtgeschichten.
Radiopodcast auf Ö1
→ Unterwegs mit der Lagerfeld-Truppe (PDF)
→ Magazine fotoPRO
Edition 1/12, October 2012:
"The street is a stage" – Interview on the topic
social documentary photography of everyday life.
Magazine fotoPraxis, issue 1/13, January 2013
Interview on the topic
"Urban Photography and Photography Law"
---