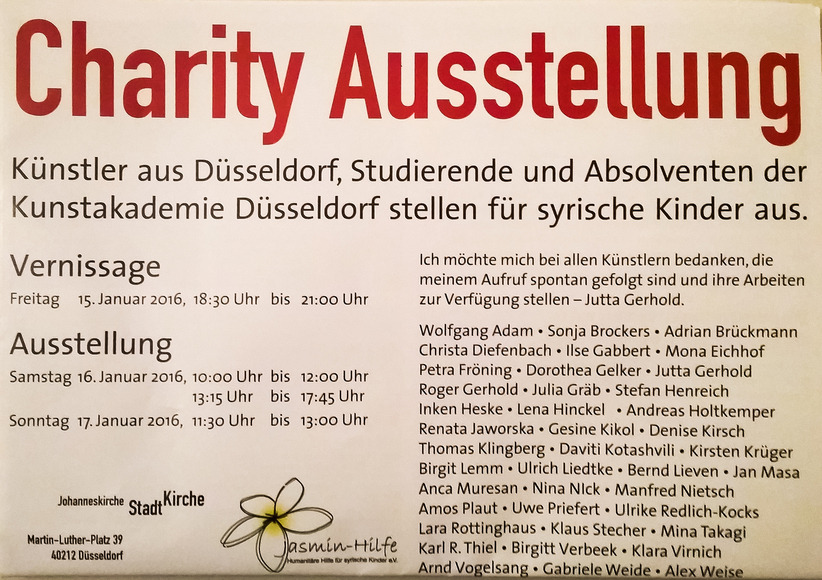 Charity exhibition in Düsseldorf
From Friday, January 15, 2016, 18:30 until Sunday, January 17, 2016, Düsseldorf artists will exhibit paintings, objects and photography for Syrian children. The exhibits can be purchased. 40% of the proceeds will go directly and without administrative costs to Jasmin-Hilfe e.V.
The vernissage will also be co-designed by musicians, writers and actors who will waive their fees entirely.
Exhibition location
Johanniskirche
Stadt Kirche
Martin-Luther-Platz 39
40212 Düsseldorf
Vernissage
Friday, January 15, 2016
18:30 to 21:00
Exhibition
Saturday, 16 January 2016
10:00 – 12:00
13:15 – 17:45
Sunday, 17 January 2016
11:30 – 13:00
Participating artists: Wolfgang Adam, Sonja Brockers, Adrian Brückmann, Christa Diefenbach, Ilse Gabbert, Mona Eichhof, Petra Fröning, Dorothea Gelker, Jutta Gerhold, Roger Gerhold, Julia Gräb, Stefan Henreich, Inken Heske, Lena Hinckel, Andreas Holtkemper, Renata Jaworska, Gesine Kikol, Denise Kirsch, Thomas Klingberg, Daviti Kotashvili, Kirsten Krüger, Birgit Lemm, Ulrich Liedtke, Bernd Lieven, Jan Masa, Anca Muresan, Nina Nick, Manfred Nietsch, Amos Plaut, Uwe Priefert, Ulrike Redlich-Koks, Lara Rottinghaus, Klaus Stecher, Mina Takagi, Karl Thiel, Birgitt Verbeek, Klara Virnich, Arnd Vogelsang, Gabriele Weide, Alex Weise
This article was posted on November 24, 2015
---
Recommended posts
---