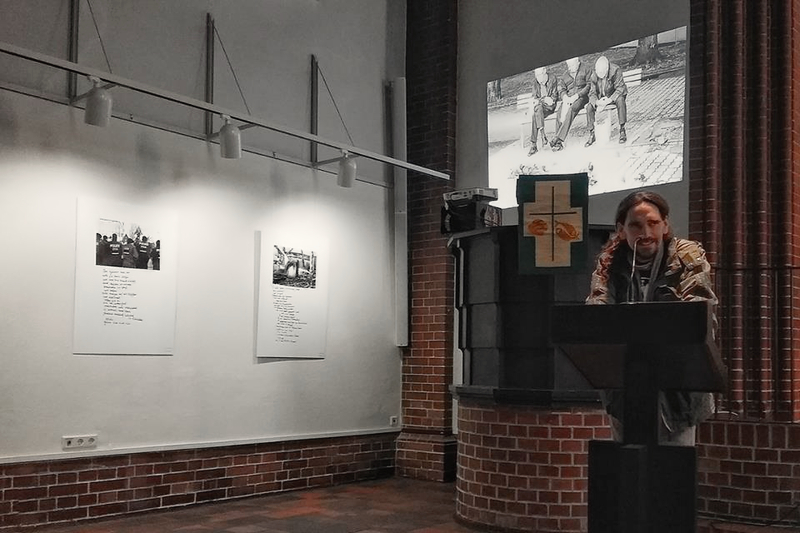 Petrus Akkordeon reads poems to photographs by Hilli Zenker, Peter Zenker and Thomas Klingberg. Photo: private
Auguste von Blau: A review of the exhibition Bildsprachen / Sprachbilder from the visitor's point of view
The inside and outside of life in Berlin takes on new facets full of sensuality through this special collaboration.
"Be a friend to your friend" writes Peter Accordion in one of his poems and hits visitors right in the heart with this simple yet unusual request. In the new photo-art exhibition, the powerful everyday scenes of Thomas Klingberg and Hilli & Peter Zenker grow together with the poetic works of Petrus Akkordeon to form a third kind.
The photographic snapshots of love, lust for life, hunger and longing, of consumption, childhood and even death invite visitors to linger, to feel and remember, to look intensely. Her pictures tell exciting stories of the here and now, of you and me.
Peter Accordion wrote a poem for each of the photographed scenes. He also visited the places where they were taken. So all the artists were at all the locations in the exhibition, just not at the same time.
The very special handwriting is not only evident in the literal – each picture panel is an original written by hand. His own lyrical image painting makes the words beneath the photographs glow.
The images and texts thus interwoven have new faces. The laughing women take on an extra dimension, the dead rabbit takes on philosophical comfort.
What fascinates me most is this multi-layered lightness with which the artists have created works full of depth. Light as feathers, the panels hang on the church walls, move in the breeze of the guests, play with their own shadows. The motifs are taken from our Berlin lives: People sitting on a park bench, standing at the checkout in the supermarket or squatting lonely on the pavement, hoping for a little togetherness. We see all this every day and yet recognise it anew through the photographs.
At the opening, Peter Accordion read some poems. The lines and stanzas flew through the balmy summer evening and his poetic passions filled the whole high room.
Hilli and Peter Zenker, Thomas Klingberg and Petrus Akkordeon give us surprisingly beautiful realities, their common view of things is full of brilliance.
Love and comfort grow in the Petruskirche. Be a friend to your friend, take each other by the hand and experience the exhibition together.
Translated with www.DeepL.com/Translator (free version)
This article was posted on July 17, 2015
---
Recommended posts
---