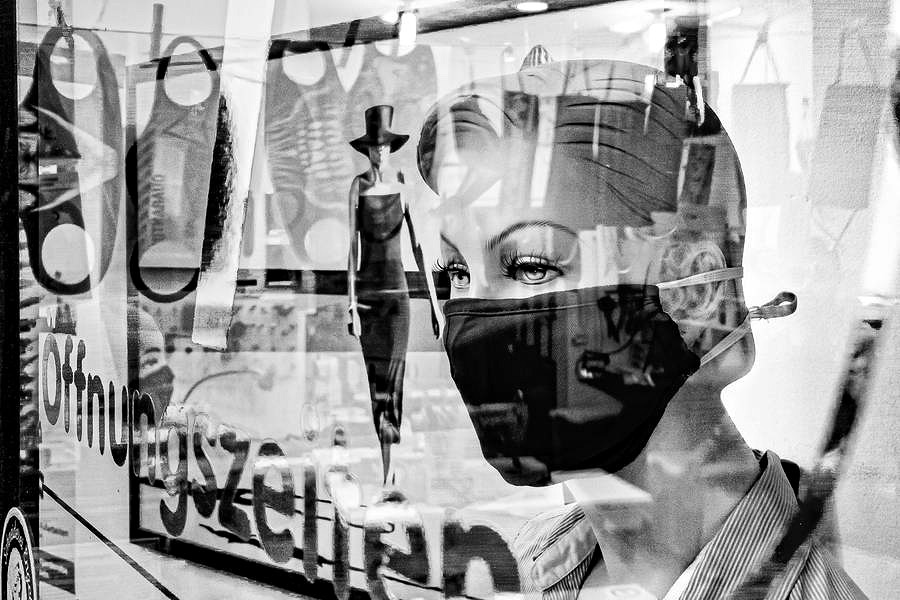 Titel: Pandemic iconography
Fine Art Print on Hahnemühle Photo Rag
Dimensions: 45×30 cm
Edition: 5 pieces
Price: € 390,00
Statement on photography:
The impact of the Corona pandemic placed a particularly heavy burden on single women, especially during the period of homeschooling and the closure of day-care centres. However, even in conventional family constellations where the man is mainly responsible for the livelihood, women bore the greatest burden. This photo illustrates the contrast between desire and reality during the pandemic. On the one hand, the heaviness of this time is symbolised by the wearing of a black mask; on the other hand, the desire to break out of the daily routine of the pandemic becomes clear – the need to be able to go out again, to get ready and to escape from everyday life. The lettering "Opening Hours" is meant to symbolise the desire to visit shops that were either not open at all during the pandemic or only open under strict conditions. This is a documentary photograph that was not staged. The photo was taken in a small boutique in Berlin-Moabit.
---
Are you interested in this work? Please contact me!
Title: Ikonografie der Pandemie
This article was posted on June 17, 2023
---